Kernow Maternity Voices Partnership publish new report on people's maternity journey in Cornwall
The report tells us about the maternity experiences of 760 birthing people and their families between 2018 and 2020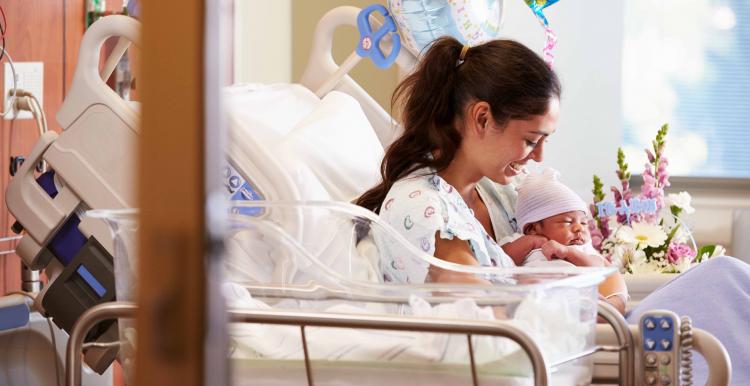 Kernow Maternity Voices Partnership (KMVP) provides a critical role in championing the voice of people who use the local maternity services here in Cornwall and the Isles of Scilly. They listen carefully to people's experience of local maternity services, sharing these experiences with senior decision-makers to inform the way services are shaped and delivered.
Community engagement, inclusive conversations, and listening to people who have been marginalised are just some of the methods KMVP uses to engage with service users. This maternity journey report contains feedback from 760 people gathered over three years and provides a very detailed picture of those people's experience of services between 2018 and 2020.
Maternity experiences can be incredibly varied; straightforward, simple, and joyous for some; complex, difficult, and distressing for others. The report inspires confidence in the local maternity system, containing excellent feedback on the services delivered by the hard-working and dedicated staff, but also includes some concerning comments that should be noted and reflected on.
KMVP and Healthwatch Cornwall look forward to working in partnership with the Local Maternity and Neonatal System in Cornwall and the Isles of Scilly to embed report findings as part of service design in the future.
The report can be downloaded at the end of this article or read on the reports page of our website here too.
At KMVP we are passionate about listening to all families across Cornwall. We believe that to develop and implement safe and family centred maternity and neonatal services, we need to start with the voice of those who will use the services. This report is the end result of a lot of hard work and I want to thank everyone who has been involved, especially those families who have shared their experiences with us - It is always emotional to listen to someone share their story and we cannot exaggerate how much of a difference it makes. Your experiences have been shared with staff members from the ward to the Executive Board within Royal Cornwall Hospitals Trust and the local maternity and neonatal system, your voices have contributed to design, improvement and quality assurance of the services across Cornwall and the Isles of Scilly. We are committed to ensuring all families are given evidence-based, accessible information, are encouraged to make informed decisions about their care that are respected, and able to access the support and kindness they need to have a safe and positive pregnancy, birth, and early parenting experience.
Firstly let me thank those who participated in this report. It highlights the high-quality care that the maternity services deliver here in Cornwall, and also brings to our attention some poor experiences that people have encountered on their maternity journey too. It is important that we hear and listen to your voices and act to make improvements. We always want to provide the highest possible standard of care and we commit to using your experiences as part of our ongoing training and education. The communities the services provide care for are at the centre of any work we do, and the local maternity and neonatal system are thankful to have such a strong MVP to support and challenge us to hear your voices.
This report gives an excellent insight into people's experience of their maternity journey over the last three years. Our dedicated, passionate and hardworking maternity teams always strive to provide the highest levels of care possible for people, however, we do recognise on occasion things don't always go to plan which can result in very negative experiences. Thank you to Kernow Maternity Voices Partnership for sharing this feedback with us. We are committed to continuing our strong working relationship with KMVP to ensure our services provide safe care that is appropriate and accessible for our local communities.
Resources and information
Kernow Maternity Voices Partnership and Healthwatch Cornwall recommend the below resources and information to help you and your partner with your maternity journey. If you live in Cornwall or the Isles of Scilly and want to find some resources and information to help with breastfeeding, your birthrights, pain relief and general preparation for pregnancy, you can click on the links below to find out more.
Breastfeeding 
If you are looking for information to help with breastfeeding in Cornwall, the following website here has some great resources to support you with this.  
Birthrights
Knowing your rights and what to expect during pregnancy is really important. Birthrights is dedicated to ensuring women and birthing people receive the respect and dignity they deserve in pregnancy and childbirth. You can head to their website here to find out information about what your rights are.
Pain relief
LabourPains.com contains resources and information to help you with labour pain and pain relief. The website contains information written by doctors, midwives and mothers so If you're looking to find help and advice, head to their website here to find out more.
Preparing for parenthood
Solihull are a team of registered professionals within the National Health Service in the UK, working with practitioners and parents to develop new resources to support all of us to have a happier life. They offer free courses that can be accessed online here using the access word TAMAR.