Your feedback really does have the power to make a difference
Improvements have been made to the Rheumatology department at Royal Cornwall Hospitals Trust thanks to your feedback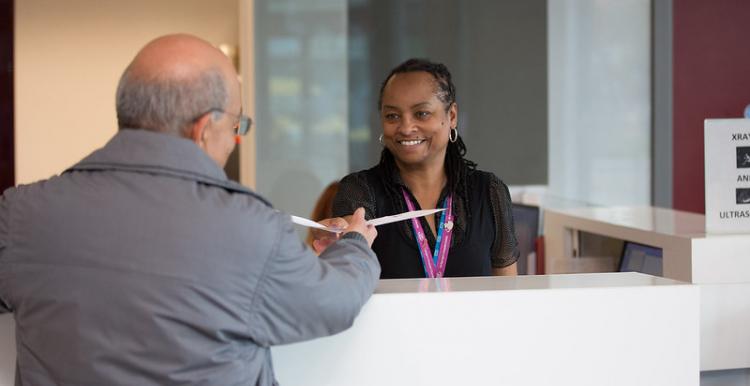 As the health and social care champion for people in Cornwall, we're on a constant mission to make improvements to your health and social care services in Cornwall. From dentistry to GP websites, mental health information, and support for carers, these improvements simply aren't possible without the feedback we receive from residents telling us about their experiences.
Residents in Cornwall had been telling us about their experience at the Rheumatology department at Royal Cornwall Hospitals Trust (RCHT). Residents told us that the service was good, but there were some recurring comments and issues relating to things like parking and communication that were causing concern and challenges for people using the service.
The team at Healthwatch Cornwall conducted some patient engagement following this feedback, working closely with colleagues at the Rheumatology department to share this feedback with them.
As a result of this feedback, engagement, and working collaboratively with staff, we're delighted to share the good news that a number of changes have been made to this department that will make the service better.
Healthwatch Cornwall have also partnered with RCHT and Care Opinion to conduct some further research about this department, so if you've used the Rheumatology department recently, we would love to hear from you using the links at the end of this article.
You said:
"The service is good, but we struggle to access the clinic since it moved to Truro Health Park. There needs to be better information about parking and transport, too."
We did:
"Letters sent to patients have been improved with more information about parking, transport links and alternative routes of travel. There is also improved signage and information about parking at the Health Park."
Listening to patient feedback is critical to help us continually evolve and improve the services we offer. It has been great to work with Healthwatch Cornwall to engage with people using the rheumatology department and understand their experiences. We're delighted to have been able to implement a range of improvements based on this feedback that we know will make a big difference to services users in the future.
There have also been further improvements made to services:
Improvements are continually being made to the service with ongoing patient support based on your feedback. The aim is to provide services closer to home, virtually and through an expanded telephone support line, T: 01872 252202, selecting option 2.
Further improvements made:
Self-referral
A Patient Initiated Follow-Up Pathway has been introduced, so patients can refer themselves back into the service for up to three years depending on their specific condition.
Expanded peripheral clinics
To improve access and availability to the service and provide more care closer to patient's homes, there is now increased staffing, and an expansion of peripheral clinics at Bodmin, St Austell, West Cornwall, Newquay and Falmouth, avoiding the need to travel to Truro Health Park where possible.
New virtual clinics
During the Covid-19 pandemic, virtual clinics were introduced so patients do not always need to come to a clinic for their appointments and can get the advice and guidance they need from the comfort of their home. There will be a continued focus on delivering a mixture of virtual and face-to-face appointments as part of the long-term strategy post-pandemic.
Improved advice line
The advice line service is being improved and patients will be contacted soon to be updated on further improvements in the future.
Have you recently used the Rheumatology department at RCHT?
Royal Cornwall Hospitals' Rheumatology department are always keen to hear from you and are hosting a survey to gather your views to help further improve the service.
You can complete the survey via this link
Or you can share more general feedback about the Rheumatology service through Care Opinion.