Free ways to boost your mental health this lockdown
With Time To Talk Day this Thursday, we decided to take a look at some practical ways you can boost your mental health without spending any money.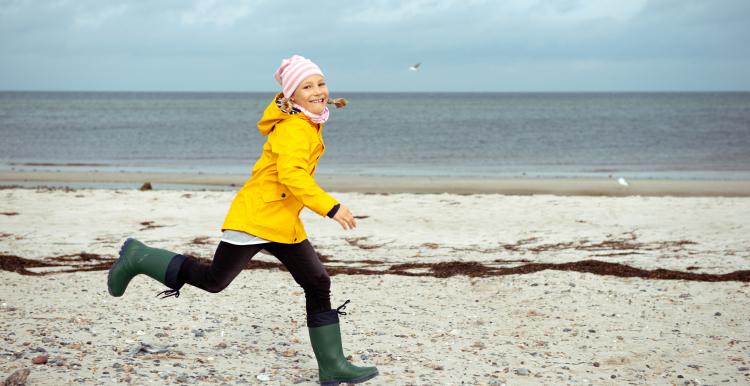 If your mental health is suffering in lockdown, you're not alone. A recent survey found six in ten of us are finding it harder to stay positive day-to-day compared with before the virus, and ONS data found depression has doubled since pre-pandemic levels.
While it's normal to struggle with feelings during these ceaselessly challenging times, it's also important – perhaps now more than ever – that we take proactive steps to look after our wellbeing. 
We spoke with several mental health experts on the matter including Cat Packer the Fundraising and Evaluation Coordinator at Pentreath Ltd, Charlotte Hendy-Crouch who is a Mental Health Practitioner at Stillmoor House Medical Practice and Carnewater Practice, and Brad Osman the Director and Co-Founder of Man Down Cornwall. Here are their top tips for boosting your mental health in lockdown. 
Stay Connected
We know that good relations are important, but many of us may not realise quite how important they are for our mental health. One breakthrough study found that a lack of social connection is a greater detriment to health than obesity, smoking and high blood pressure. 
So it's little wonder that our own survey, asking Cornish residents about the impact of the pandemic on people's mental health and wellbeing, found that isolation and separation were frequently cited as major challenges. It's an issue that Charlotte has noticed repeatedly in her work as a Mental Health Practitioner. "We are frequently talking to people that are experiencing loneliness with the lack of freedom we once had to go out and socialise with people, which makes it so important to keep in touch with your social network as best you can," she says. "This could be done online, via videocalls, zoom quizzes, social media and phone calls," she says. Brad was keen to highlight the benefits of speaking on the phone or better still using video, as he says they provide a better level of interaction than sending a message. 
But what about those that don't have access to a a close-knit social circle at the moment? "During the pandemic lots of services and charities have set up chat lines and help lines that someone can tap into," says Charlotte. "There are lots online at the moment such as Chatty Café or find one based around your interests. Maybe sign up for an online course – there are loads out there. Please contact us if you would like some support with finding them," adds Cat. And while messaging and picking up the phone are useful; nothing beats seeing a loved one face to face. If possible, you could arrange to meet a friend or family member for a walk together as this is currently permitted. 
It's not just how you communicate that's important, but what you talk about can have an impact on your mental health too.  "Talk to people, known or 'strangers', that are empathetic and not judgmental about your mental health struggles. Learn to talk openly and honestly - it's not as hard as many people think and is extremely therapeutic," says Brad. 
But while 'deep and meaningfuls' with your loved ones and professionals alike are excellent, don't discount the benefits of small everyday interactions too. Even smiling at someone in the street or chatting about the weather with a shop assistant can be a mood booster.  
Stay active 
'If exercise could be packed into a pill, it would be the single most widely prescribed and beneficial medicine in the nation', said the founder of the National Institute on Aging back in the 80s. The NHS says exercise can reduce your risk of major illnesses, such as heart disease, stroke, type 2 diabetes and cancer by up to 50% and lower your risk of early death by up to 30%
But it is also a powerful tool for improving mental health. Research has found it has a positive impact on mood, lowers stress, boosts self-esteem and protects against cognitive decline. So potent are the benefits of exercise, it is even used as an alternative treatment for depression and can reduce mild and clinical anxiety.
When it comes to exercise, Brad says: "preferably outdoors, but indoors too." If you're currently building up your fitness, start with walking. If you'd like to progress, try downloading the C25K app which will see you running 5K in just nine weeks. But even the hardiest of outdoor exercisers can tire of the seemingly never-ending mizzle of February. In which case, check out online fitness classes – from mellow yoga flows to seriously sweaty HIIT sessions, there is something for everyone. 
Structure your day 
Some evidence suggests having a daily routine can benefit wellbeing. One study found that people who have an active daytime routine over a night-time one have less interrupted sleep cycles (which can in turn result in mental health difficulties). Another study found that family routines helped children moderate impulsiveness and oppositional symptoms. Now what parent wouldn't want a bit more of that?
It's easy to see whatever challenges you face in lockdown – working from home, home-schooling, unemployment etc. – how a daily routine could help. So much so, all three of our experts were keen to stress the important of them. 
"Keeping to a routine makes a huge difference for lots of our clients. It doesn't have to be a complicated routine, some people benefit from a simple timetable such as get up, get dressed, have breakfast, do the dishes, put the washing on and then have a coffee. Celebrate your achievements when you can and try to give yourself credit, just getting out of bed can be an achievement for some people who are struggling," says Cat. 
Your routine doesn't have to involve grand plans, in fact the more manageable the better.  "Put as much structure as possible into each day; small realistic tasks that are achievable with a reward at the end," says Brad. 
Don't make the mistake of timetabling in all work and no play, either. "Set aside time in the day for you and do something that makes you feel better. That could be reading a book, practicing mindfulness or having a nap," says Charlotte. It's crucial that you prioritise your needs when setting out your structure. "Look after yourself first, before helping others, you are not going to do a good job of supporting others unless you are in a stable place yourself," says Brad.
Practice mindfulness
Mindfulness is about paying attention to your thoughts, feelings, sensations and environment through a non-judgemental, self-compassionate lens. It might sound fluffy, but this practice is actually recommended by the National Institute for Health and Care Excellence (NICE) as a way to prevent depression in people who have had 3 or more bouts of depression in the past.
Not sure where to start? "Get outside and connect to nature once a day. The natural world releases endorphins which are good for your mental health and wellbeing. It helps you to practice mindfulness and stay in the moment," says Cat. 
Looking for more ideas on how to stay mindful outdoors? These activities on the Cornwall Wildlife Trust website are a great starting point. If you'd rather start off in the comfort of your own home, there are several free mindfulness apps you could try such as Stop, Breathe & Think or UCLA Mindful.
Prioritise sleep
A lack of sleep negatively affects your psychological state and mental health. And, rather cruelly, if you're suffering from mental health issues, sleep is often elusive. Yet it is critical to our functioning. 
"Sleep is so important in having healthy mental health as well as physical," says Charlotte. As such, she's a big fan of a 'a good bedtime routine'. This doesn't have to be complicated, but it signals to your body that it is time to start winding down for the night and helps it prepare for the shift to sleep. This might mean you turn screens off at a certain time, switch to reading a book and take a warm bath or drink a herbal tea before heading upstairs. 
The room you sleep in should be dark and quiet if possible, and not too hot. If you find it difficult to get to sleep, you might like to try a bedtime meditation or a yoga nidra. Alternatively, to quiet a busy mind you could just focus on your breath or try counting backwards from 1,000. And while it may be tempting to lie in, it's beneficial to go to bed and wake up at the same time every day as it helps reinforce the circadian rhythm.
Get professional help
And if these measures aren't working? "Seek professional help if you are struggling; we are still working and available," says Charlotte. As well as your local GP surgery, you could reach out to a mental health organisation. "Seek help from the many different organisations out there who have support available and groups you can get involved with," says Cat. Our last survey found that 12% of respondents accessed support for their mental health from over 50 different organisations, so there are plenty of places to turn to if you're concerned. 
 
In conclusion
Lockdown brings with it many challenges including isolation, anxiety and financial stress, so taking care of our wellbeing has never been more crucial. From endorphin releasing exercise to following a simple routine, there are plenty of steps you can take to help take care of yours. But these are extraordinary times and many of us will need additional help from a professional to get through them. 
Have you experienced any challenges with accessing mental health support in Cornwall?
Healthwatch Cornwall are here to listen and would really like to hear from you. If you have experienced any difficulties with your mental health during the latest lockdown or want to share your experience of accessing services, Healthwatch Cornwall are here to listen.
You can contact Lesley using the details below in confidence to tell us about it, we are committed to improving services and understanding patient experience that will help us to improve mental health services in the future.
You can contact Lesley on:
engagement@healthwatchcornwall.co.uk
T: 0800 0381 281
Alternatively if you have five minutes, we would really appreciate you taking our short mental health survey by following the link below.