Why being by the sea is good for your mind
With over 400 miles of coastline, we're lucky to have excellent access to the sea across the county. In fact, no inland area is more than 20 miles away from the coast. The good news is that being by the sea is incredibly good for your mental health.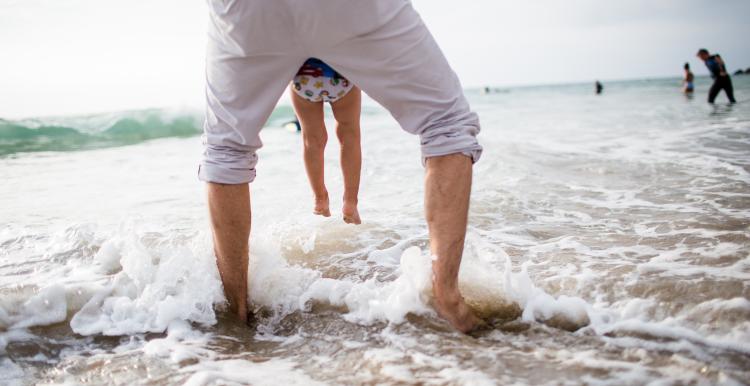 Our survey, looking into the mental health of Cornish residents over the first lockdown, found evidence of an increase in the number of people with symptoms of anxiety and depression. So, as part of Time to Talk day this Thursday and to help residents in Cornwall with support and information, we wanted to look at a few ways people could proactively look after their wellbeing in this lockdown.
In this article, we dig into why being beside the seaside is so beneficial to our mental health and how we can best make the most of our unique positioning here in Cornwall. To find out more, we spoke with some local experts including Joe Sabien, CEO of Sea Sanctuary, Lizzi Larbalestier a Blue Health Coach™ and Joe Taylor, Wave Project Founder and CEO.
The rise of 'Blue Health' 
Blue Health is an increasingly well researched topic. Around the world experts are looking into why blue spaces, such as the sea, can improve our physical and mental wellbeing. "Many believe the sea has a therapeutic quality, finding it exciting and magical. And scientists are now proving this right; being by the water rejuvenates the body and mind, reducing stress and anxiety," says Joe S. 
Take for example, this hefty bit of research. Using survey data from nearly 26,000 respondents, researchers conducted one of the most detailed investigations into the wellbeing effects on being by the sea. And the results were incredible. Having taken other related factors into account, the research found that living in large towns and cities near England's coastline is linked with better mental health for those in the lower earning households. 
Another study, this time involving 20,000 smartphone users recording their wellbeing at various intervals, found marine and coastal spots were the 'happiest locations', faring six points high than an urban environment. The researchers rated it as "the difference between attending an exhibition and doing housework".
In an interview with The Guardian, Dr Mathew White, an environmental psychologist, said there are three key factors which link coastal living and wellbeing. Firstly, in general, coastal environments are often higher quality with more sunlight and less polluted air. Secondly, people who live by the water are often more active. But the third point is particularly interesting, he says water has a 'psychologically restorative effect', with time by the water consistently linked with positive mood and reduced negative mood and stress. 
The mental health benefits of being by the sea
Meditative state
Many of us intuitively feel more relaxed and at peace by the sea, but why exactly is that?  "Simply staring out to sea can change our brain wave frequency, luring us into a mild meditative state. The colour blue is associated with feelings of calm and peace and listening to the ebb and flow of waves and the swell of the sea naturally soothes and relaxes the brain. The fresh salty sea air is full of negative ions, believed to help alleviate depression and the increased levels of Vitamin D, the sunshine vitamin, which soaks into our skin makes us feel good," says Joe S.  
Big picture thinking 
Being by the sea also forces us to change our pace of living which can alter how we think and process information. "We can slow down, stepping away from the frenetic digital world and allowing us to simply take time to be fully present in the moment. Our breathing shifts as we watch waves and wildlife and our attention is drawn from within ourselves to the outside world giving our minds the space to reset and, importantly, offering our nervous system the chance to rebalance as we connect with nature," says Lizzi. "Time in blue spaces enables us to unconsciously, and consciously, recognise the interconnection between all aspects of life within our ecosystem promoting empathy and dissolving any sense of isolation."
Gratitude
It is easy to slip into a negative mindset, especially given the constant challenges we're all facing at the moment. But staring out to sea, most of us can't help but feel even a momentary glimpse of gratitude, which is a powerful step towards wellbeing. "With so much going on in the world right now; a trip to our beautiful coastline is a great way to reflect and remember all the positives and beauty we have around us. We must all take time – indeed find this time wherever possible - as without it, we can become immersed in the negative; this is absolutely something to avoid. Remember too; we can always find a reactionary gap – we can all make a space to consider the information that presents itself to us and respond accordingly through choice. We can, through dedication and practise, actively remember that wellbeing is blue, wet and around the corner," says Joe S. 
Immediate mindfulness
If you've even taken a dip in the sea, or even had a paddle, you'll recognise that feeling of complete immersion in the activity. "By getting into the sea you're no longer observing nature, you're in it and fully conscious of the feel, the sound, the power, and taste of the ocean," says Joe T. It's a form of mindfulness, which has a powerful way of putting things into perspective. "In the sea there isn't a lot of headspace left to also worry about land-life-problems because the ocean demands your full presence the moment you step into it," he adds. 
Improved sleep 
It's not an uncommon phenomenon to sleep well after a cobweb shifting walk by the sea, but now there is actual research to back it up. A study found that people sleep on average for 47 minutes longer after a good walk along the coast. And the sea in particular is thought to play a crucial role, as those who went on a similar length inland walk bagged only 12 minutes of extra precious snooze time. And we all know the power of a good night's sleep. 
Connect with your emotions
"Being in the sea is 'being at one' with the sea; the space, the sensory awareness, the refreshing sensation, the motion, the smell and the challenge. Be it swimming, surfing, sailing or SUPing, your time in the water gives you the time and opportunity to explore often self-imposed limitations, allowing you to be present in that moment," says Joe S. And that allows people to connect with their emotions in a powerful way. That's a particularly useful side effect for people who aren't into traditional methods of connection with their own emotions, such as journaling or discussing their mental health with a friend. "Here at Sea Sanctuary, we believe the sea works for us in a way that is beyond language; for those who struggle to articulate their emotions, the sea is something that makes people feel and connect with their emotions. There is something about the silence, the serenity and peace that can only be found in or near the sea," he adds. 
How to enjoy being beside the sea
Take your shoes off: "Get out there, just a glimpse of the sea or getting a few grains of sand on your toes can change your entire outlook for the day," says Joe T.
Pay attention: "Take a coastal walk and observe how the light, shapes, and colour of the landscape shift reminding us of the transitional nature of all things," says Lizzi. "Take a walk to your local beach and let your senses take in it all.  Learn how the waves break, take notice of the wind," adds Joe T. 
Get in the sea: "Perhaps take up cold water swimming, there are plenty of groups who can offer support and safety advice," says Lizzi. "If it's a good day go for a dip or a surf - get in there!  The feeling of accomplishment that you have truly embraced nature will stay with you all day," adds Joe T.
Any water will do: "Too far from the beach itself?  The watery nature of our peninsula offers rivers and estuaries teaming with wildlife and activities such as photography enable us to exercise our creativity," says Lizzi
Look for wildlife: "Do a spot of rock pooling, collect shells, and watch the wildlife," says Joe S.
Embrace coastal culture: "If you are unable to physically get to the coast, then immerse yourself in Cornish culture, read Cornish magazines and watch TV shows about our local marine life perhaps, or listen to music inspired by the ocean can help connect you connect virtually with the coastal qualities of this amazing county," says Lizzi. 
Be still: "Simply go and be still. This last point, often overlooked, allows us time to ourselves, to be in the moment and process what's going on for us. It isn't selfish or superfluous to our needs; it's the essence of being alive and of appreciating this rich and varied world in which we live," says Joe S. 
In conclusion
The world feels like a strange place for many of us right now, but we're lucky here in Cornwall to be surrounded by the mental health boosting powers of the sea. Simply staring out to sea – listening to the waves, paddling our toes, scouring the shoreline for shells – comes with a whole host of benefits. So, if you've got the opportunity, why not try a meander along the seafront and see how you feel afterwards?
Have you experienced any challenges with accessing mental health support in Cornwall?
Healthwatch Cornwall are here to listen and would really like to hear from you. If you have experienced any difficulties with your mental health during the latest lockdown or want to share your experience of accessing services, Healthwatch Cornwall are here to listen.
You can contact Michelle using the details below in confidence to tell us about it, we are committed to improving services and understanding patient experience that will help us to improve mental health services in the future.
You can contact Michelle on:
engagement@healthwatchcornwall.co.uk
T: 0800 0381 281
Alternatively if you have five minutes, we would really appreciate you taking our short mental health survey by following the link below.