Find some time to talk about mental health this week
Time to Talk Day is the nation's biggest mental health conversation and it's nearly here! Taking place on Thursday 3 February, it's the day that friends, families, communities, and workplaces come together to talk, listen and change lives.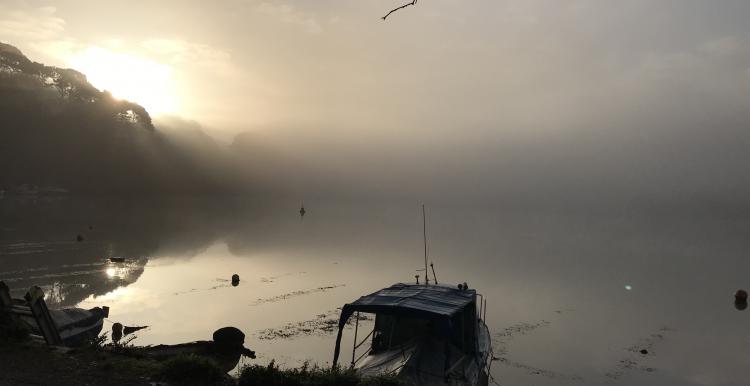 This week, Healthwatch Cornwall will be encouraging everyone to have an open conversation about mental health with colleagues, friends and loved ones. Time To Talk day on Thursday 3 February is an important date in our annual calendar, and we're looking forward to sharing ideas and inspiration with you all this week about how to open up dialogue and discussion on mental health.
Raising awareness about mental health is a top priority for us, and our research and reports regularly note people telling us that getting outside to enjoy nature as well as talking has benefited people's mental health and wellbeing. Cornwall has over 400 miles of coastline, 300 beaches, wonderful coastal paths, trails and outdoor spaces to explore.
In our interview with Ross, founder of mental health charity Man Down and cold water swimming group Blue Balls, you can find out contact details to join them for their fortnightly meetings, and learn about how cold water swimming can help with your anxiety and wellbeing.
Sarah and Michelle from our Engagement team also discuss how walking and talking is a great way to open up the discussion and talk about how you're feeling. Their video from Malpas Park in Truro is a great inspiration to set the alarm clock for a misty morning walk there with a friend or family member to have a chat.   
On Thursday, we'll be at Co-op in Truro for a pop-up engagement event so please do come along and say hello if you are in the vicinity.
Most importantly, make sure you have a chat with someone this week about how you're feeling and look for the signposting resources, websites, phone numbers, and email addresses in our content this week (and at the end of this article) if you want to reach out for help or support.
During lockdown, residents told us how important seeing friends, family, and being outdoors was for their mental health and wellbeing. This week for Time To Talk Day, we are encouraging people to have conversations with colleagues, neighbours and loved ones to help open up dialogue and discussion around any mental health issues they might be experiencing.
It's very important to talk to each other to connect and share the load. We know that conversations around mental health change lives, and that's one of the reasons why we started Man Down. It's great to get men to come along and open up and connect with each other to talk about their mental health issues and concerns and to squash a stigma which surrounds men's mental health. 75% of all suicides are male and that has a major part in the shame and the stigma which is attached to men's mental health.