Kernow Maternity Voices Partnership annual report 2020/21
Babies, Facebook Live and lockdown: Kernow Maternity Voices Partnership reflect on a challenging year for birthing people and their families in their annual report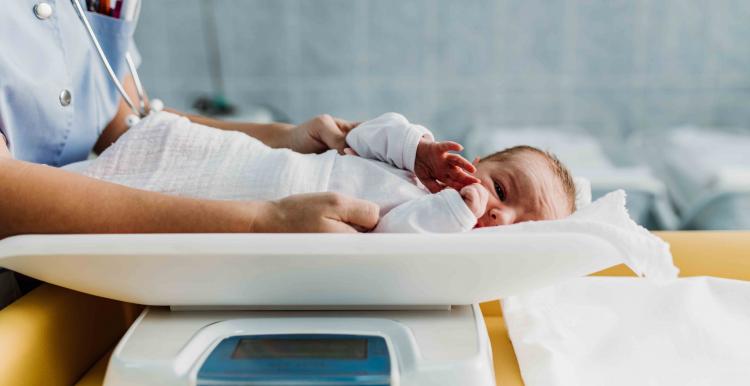 This year has been unprecedented and of course a lot of this report will involve our COVID-19 response, but it is important for us to acknowledge that while COVID-19 has had a huge impact, maternity and neonatal services were already in the middle of massive transformation and high levels of scrutiny.
The main work of the Local Maternity and Neonatal System (LMNS) was stood down during the height of the first wave but was reinstated during the autumn and has continued to move its programme of work forward throughout the winter and second lockdown. We have adapted, and babies have continued to be born throughout. We must recognise the incredible amount of dedication and hard work that it has taken to ensure continued safe care for all people becoming pregnant and giving birth during this year.
My wife was induced and was so anxious about being alone and me missing the birth she made me promise to stay nearby. I spent 18 hours in the car park, sleeping in my car so she knew I was close by. She was left pretty much on her own the entire time and felt totally abandoned, even the phone signal was bad. Lucky I stayed as she was only moved at the last minute and if I was at home an hour away I never would have made it. If we had known what it would be like we never would have agreed to the induction.
Kernow Maternity Voices Partnership (KMVP) reflect on highlights from their work during the last year 
Local Maternity and Neonatal System (LMNS) redeployment
The LMNS was stood down when the pandemic hit. This meant the staff were redeployed to roles in response to COVID and the project work, deadlines and reporting were all paused. This included a lot of the work that KMVP were involved in and subsequently meant that KMVP resources were prioritised in other areas such as communication and information.
Facebook community check-ins
In March 2020 KMVP launched a weekly community check-in, live on Facebook on Friday evenings. This enabled service users to ensure they had up-to-date information about restrictions and were offered signposting as well as reassurance at a time when information and support were difficult to access, and the situation was changing rapidly. The average reach of these 'lives' was 500-2500 viewers.
Maternity Natters
Maternity Natters started as a monthly Facebook Live from May 2020, run by members of staff including midwives, obstetricians and maternity support workers. Each session had a different topic and invited specialist staff to answer questions from the public.  The sessions reached anywhere between 1000-3000 people. It's now developed into a digital online offer of antenatal education sessions run by each community midwifery team to support in sharing information and building relationships with midwives.
15 steps report
In January 2021 we published our long-awaited '15 Steps for Maternity' report. The report followed the 15 steps QI framework and we visited all the maternity and neonatal areas in Royal Cornwall Hospitals Trust with a group of service users. The report made 13 recommendations for change which have been brought together into an action plan, overseen by the Maternity Leadership Team.
Ultrasound feedback
Women and pregnant people were having to attend all their antenatal scans alone, which meant that fathers and partners were not able to be part of this experience.  When scans picked up unexpected news there was nobody there to support the woman through that conversation. KMVP carried out engagement through social media and produced an article highlighting the feedback which was shared with the leadership team and informed a co-designed pathway to support the involvement of partners
Electronic patient health record (ePHR) evaluation
In March 2021 KMVP created and hosted an evaluation survey to assess how well used the maternity ePHR system was, and how service users found it. The digital platform is the home of much of the patient information as well as maternity records. The outputs were presented in a report that identified areas which needed work, and informed an action plan to improve.
Communications and support
KMVP's focus during 2020/21 was on compassionate communications and ongoing support for both the service and the users. This continued to be difficult with the limitations of lockdown, and the reliance on social media meant there was a portion of the community we were unable to engage with. A lot of our communications were focused on up-to-date information about services, restrictions and signposting.
Perinatal quality and safety surveillance
In December 2020 NHS England launched the revised 'Perinatal Quality and Safety Surveillance Framework' which signified a change in the way local maternity systems functioned, and the role they played. This has meant the KMVP has had to broaden the remit of our work, and during the first quarter of 2021 we started to look at how we could increase our capacity and strengthen the KMVP team. This new area of work includes involvement in maternity governance, safety champions work and having an overview of safety at the Trust. The KMVP  acts as a critical friend, offers positive challenge and has a system wide view of the ever changing safety landscape to highlight any concerns early, in partnership with the Non-Executive Director and LMNS partners.
Engagement and involvement
Being restricted to online involvement and engagement continued to be challenging. We ran online surveys and supported involvement by service users at some online focus groups looking at the impact of COVID on services. During the first quarter of 2021 we supported volunteers to engage online and feedback on various pieces of work such as VR tour scripts and patient information leaflets.
Thank you to every hardworking member of staff within the NHS and local authority that has been there to support families and provide safe care throughout what has been an uncertain, anxious and continuously changing situation.
The pandemic has presented very challenging situations for my team and the public to navigate: thank you to the team at Kernow Maternity Voices Partnership for helping us to understand these difficulties through their innovative and ongoing engagement work with the birthing community.
Kernow Maternity Voices Partnership continues to deliver exceptional engagement work with birthing people and their families in Cornwall and the Isles of Scilly. From surveys to social media, online focus groups and online community check-ins; the creativity in engagement methods from the team at KMVP over the last year has allowed us to continue understanding the challenges faced by birthing people and their families as the pandemic continues. The last year has been particularly challenging in ensuring we continue to deliver good quality care in the light of restrictions imposed during the Pandemic and KMVP have been central to supporting us, ensuring the voice of families continues to be central in understanding how we provide and develop the best care possible.
Priorities for the next year:
KMVP expansion for sustainability and resilience
Equity and equality strategy
Ockenden report – evidence review and submission
Community engagement – return to the community
Continuity of carer – plan for full-scale rollout
Perinatal Pelvic Health early implementer project
Personalised care plans
Thankyou
Thank you to everyone that is helping us put people at the heart of maternity and neonatal services, including:
Members of the public who shared their views and experience with us
All of our amazing staff and volunteers
The voluntary organisations that have contributed to our work
The NHS teams that embrace our input to co-create great services.
"Thank you to every hardworking member of staff within the NHS and local authority that has been there to support families and provide safe care throughout what has been an uncertain, anxious and continuously changing situation."
Nicki Burnett, Chair, Kernow Maternity Voices Partnership
Share your views with us
If you have a query about a health and social care service,  or need help with where you can go to access further support, get in touch. Don't struggle alone. KMVP is here for you.
Website: www.healthwatchcornwall.co.uk/maternity-voices-partnership
Telephone: 01872 273501
Email: info@kernowmvp.org.uk
Kernow Maternity Voices Partnership Annual General Meeting (AGM)
The KMVP AGM will be held between 10-11am, 9 February, 2022.
Please email info@kmvp.org.uk for the meeting link and details if you would like to attend.